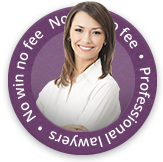 If you've injured your ankle in an accident that wasn't your fault, you may be able to make a claim for personal injury compensation.
Potential accidents
An ankle injury can occur in any number of accidents. Common incidents include road traffic accidents, work related accidents and medical negligence; as well as slips, trips or falls.
Making a claim
Following your injury, it's vital that you seek medical attention to determine the extent of your injuries.
Once you have done this, to stand the best chance of success in your claim you must contact a specialist team of personal injury solicitors.
Taking into account all the details they will assess all elements of how to bring a successful claim. Most notably this will include who the claim will be brought against and whether that person (or organisation) can be deemed legally at fault for the accident causing your injuries.
Compensation
The levels of compensation you may be awarded for an ankle injury depend on the actual injury you have suffered (pain and suffering) and any additional losses (financial expenses) that may have occurred.
Initially, your solicitor will obtain a medical report from a specialist medical expert. This will set out the extent of the injuries you have suffered. They will also provide a medical prognosis of your condition detailing what can be expected in the future in terms of recovering from the ankle injury.
Additional losses which you may have incurred could include loss of earnings, medical expenses and travel expenses, and these can be included in your claim. How much you receive in these "special damages" will depend on the individual nature of your case.
Potential levels of compensation
The following is a guide to the potential levels of compensation for your injury alone:
Minor ankle injury; including sprains and ankle fractures with pain lasting no longer than 1 year – up to £3,600
Damaged Achilles tendon – between £4,850 – £25,250
Moderate to more serious ankle injuries – £3,600 – £32,750
Very severe ankle injuries, including deformity and permanent loss of mobility in ankle joint and risk of future amputation – up to £45,750
Personal Injury Claims
If you've had a personal injury you may be entitled to compensation. First Personal Injury solicitors will help assist your prospective claim and help further win your compensation if you're entitled to it.
Contact First Personal injury today by ringing the number above alternatively by filling out the online claims form.